Eric Aasen will talk behind your back.
He'll tell people about a difficult issue you helped solve. He'll send an email to leaders about a breakthrough you had in development. He'll take time in meetings to share what new things will be possible because of your work.
He'll also compliment you directly face to face, praise you in a personal email, and recognize your accomplishments with your team.
And he does it often.

"Some people will say that being positive isn't going to solve all your problems," Eric said. "But I can tell you that being negative is only going to make them worse. It's easy to look down on stuff. It's harder sometimes to be positive. And yet, that's where the value is."
It's something that has made all the difference in the kind of culture he's building with his employees at SONIFI Solutions.
And now, it's something the entire company is recognizing him for.
Trust the process — and the people
As SONIFI's Senior Director of Technology Solutions, Eric leads a number of teams that develop custom software and hardware components, design and build Wi-Fi networks, and test commercial-grade televisions for the B2B smart technology provider.
"Some of these people have been at SONIFI longer than I have," said Eric, who accepted his first position with the company in 1999, "and some hadn't even been born when I started."
Eric believes that the wide range of specialties and ages of team members works to their advantage.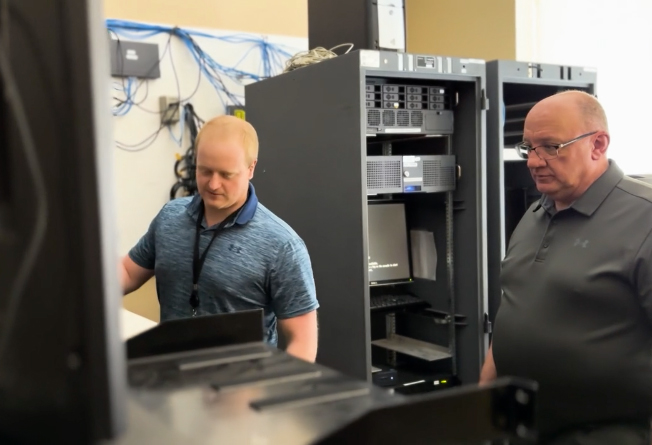 "Everybody's open to listening to and learning from other people," Eric said, "because it gets you into that mode of asking what's possible. It's a cool dynamic to have, and I feel very lucky to be part of it."
Facilitating cross-department conversations and trusting in the skills of his team create a sweet spot for innovation. And it's working.
Several people on Eric's team hold patents (or are on current applications) for their developments at SONIFI. And business is growing thanks to the work his team does, especially when it comes to internet networks in hotels.
"Eric trusts us to work hard and be self-sufficient, while also providing us with assistance whenever we run into a roadblock," said Reed Mcbrayer, an internet network architect on Eric's team. "He really understands what people across SONIFI do, and he studies our products and industry topics so he knows what next steps should be taken based on our advice. He will drop everything to help out and get you to who or what you need to meet your goal."
A positive outlook has a positive impact
Given the nature of the team's work—solving some of the most complex technology problems hotels, hospitals, and businesses face—Eric knows some days can be tough.
"Some of these guys are doing things that are much harder and much more challenging than what they've done before," Eric said. "So when I'm giving them feedback, I choose to focus on the positive side so they are encouraged, motivated and engaged."
It's a deliberate mindset for Eric to remind the team about the progress they've made, and the advancements that are possible.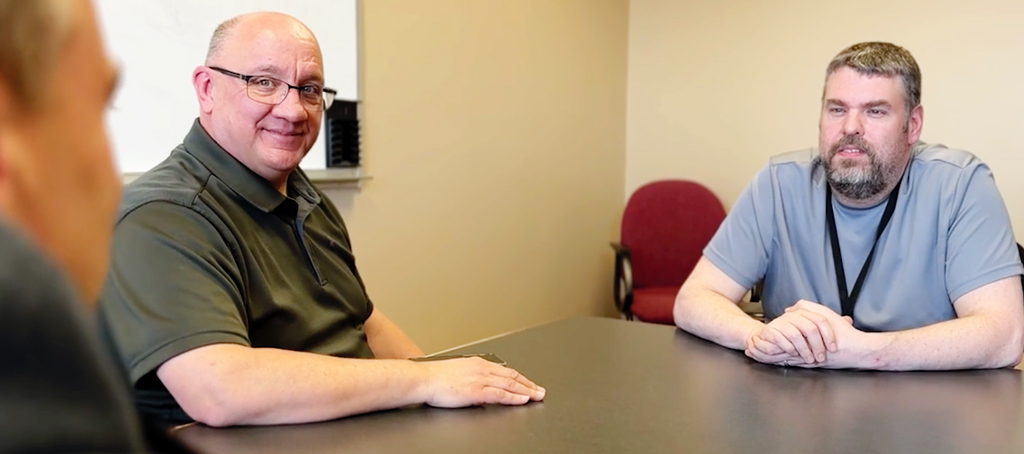 "When people are encouraging them, pushing them in ways that reinforces who they are and what they're trying to accomplish," Eric said, "that's where they're going to achieve great things."
It also helps people feel proud of and respected for the work they do.
"Eric inspires us by complimenting us both personally and to the people around us," Reed said. "I've personally gotten a lot of recognition from others just by talking with them and hearing that Eric gave you high praise for something you did."
In 2022, it was Reed's turn to give praise as he nominated Eric for a Signature Award, SONIFI's company-wide employee recognition program.
"Eric has been an amazing boss," Reed said. "He inspires us to work hard, but he's also very personable and encourages us to enjoy our downtime, or just take a break and chat. He is easy to approach and never makes you feel out of place, and he is always ready to jump into a 'let's get this done' role with you."
With Reed's nomination, Eric won the Signature Award in the leadership category, where qualifications include being someone who inspires and motivates others, works to build positive relationships, has a passion and enthusiasm for what they do, and drives the success of others and SONIFI as a whole.
"Eric is a people leader, and he's revered as a leader not only within his team but beyond it as well," said Kim Edwards, SONIFI's Senior Vice President of Human Resources. "He takes the time to get to know people, and he always makes sure receive the support and help they need to succeed."
Kim helped establish the Signature Awards at SONIFI, where anyone in the company can nominate a person for an award. "Being a peer-nomination program helps us create and strengthen personal connections with each other," she said, noting research that high-performing teams share six times more positive feedback than average-performing teams. "Shining a light on the positive things people from different departments are accomplishing helps everyone see the value each individual brings to SONIFI."
Taking the right path
For Eric, receiving the Signature Award was humbling, but it's also a sign that he's where he's supposed to be right now.
Three years ago, the pandemic drastically shifted SONIFI's business needs, and the role Eric was in wasn't necessarily sustainable in the new environment.
That's when leaders in the company approached him about the role he has now—starting with the existing hardware and TV compatibility teams and later creating a new guest internet access team.
It's not the first time Eric has redirected his career. Starting at SONIFI 24 years ago was a leap into the unknown.
"I had been working in chemical engineering, and I had never worked in hardware and software before," Eric said. "But it seemed intriguing. Yogi Berra once said, 'When you come to a fork in the road, take it.' So I did. And I've been here ever since."
The changes in technology and business over the past 40 years means SONIFI never stops evolving.
"We spend so much of our time on the front edge of consumer technology and trying to bring it into a commercial environment. It's a huge challenge," Eric said. "The technology never stays static, it's always advancing. We have new topics to talk about, and new terminology. And so there's always something new to learn, and something interesting to explore."
Exploring the good kind of challenge is what motivates Eric and his team to persevere through drastic changes in the industries the company services. But there's also one constant that has kept Eric at SONIFI for more than two decades.
"It's the dedication of amazing people that draw me back through the doors every day. I love the people here," Eric said, adding that because of employees' passion and motivation, "I think the future at SONIFI is going to be incredibly exciting."
It's easy to be negative. It's harder sometimes to be positive. And yet, that's where the value is. That's where people engage.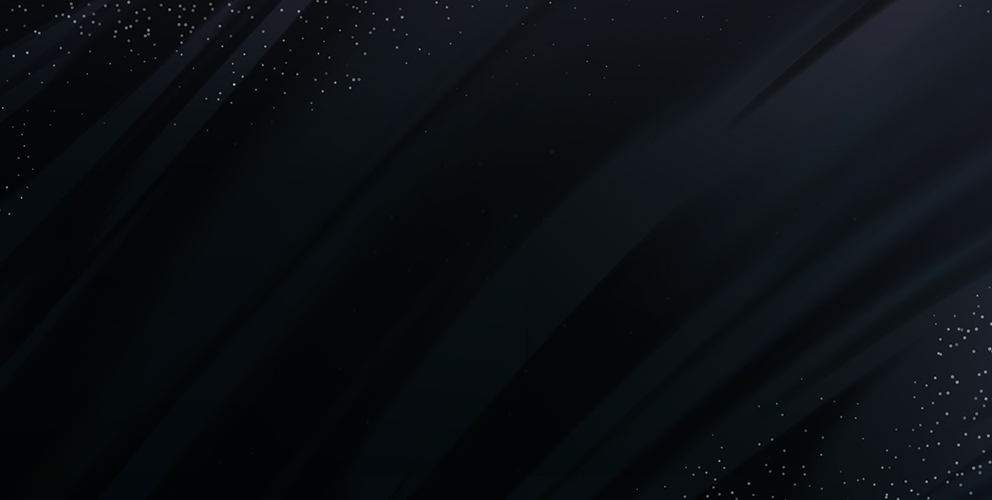 A company that prioritizes what matters most
SONIFI makes the best technology. But it's the best people who make SONIFI. Are you ready to join the best?